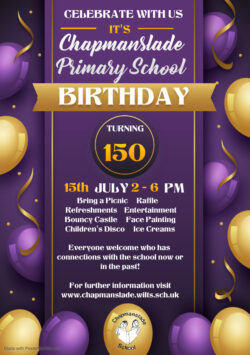 This year, Chapmanslade School is 150 years old!
On 15th July 2022, we held a celebration event on the school field, which was just wonderful! Thank you to all the  parents and visitors who joined us to mark this special occasion.
Two Years ago, our school community worked together in creating our beautiful altar cloth to commemorate our 150th birthday. Lead by our School Council, every pupil had a part in creating our altar cloth alongside staff, governors, clergy members and parents. The cloth celebrates our school life with each side representing a season.